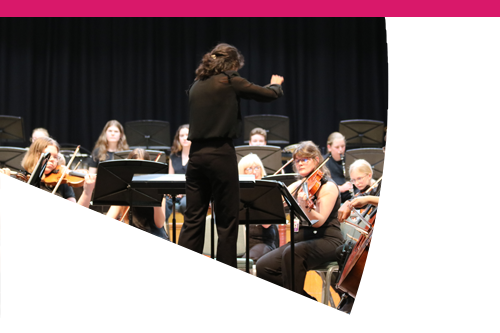 We welcomed summer with two music events over the weekend which featured exceptional displays of musical talent from around the county.
On Sunday 9 July at Worthing Assembly Hall, 170 students performed to an audience of 365 family and friends. Groups included the Tomorrow's Orchestra, Hi5 – Horsham Elementary Winds, West Sussex Training String Orchestra, West Sussex Training Wind Orchestra, Chichester Youth Orchestra and Worthing Youth Orchestra. The young musicians involved joined together with their peers from our music centres in Chichester, Crawley, Horsham, and Worthing.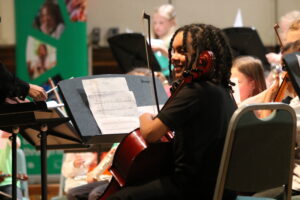 This event was particularly special for our newest students in the Tomorrow's Orchestra Programme (TOP23) who finished the concert. This performance marked the completion of their first academic year as part of an orchestral ensemble.
John Randall, West Sussex Music Centres Manager shares: "I was delighted and humbled by the progress all the groups have made during the year. To think that some of the children hadn't even picked up an instrument before January shows there's a hunger to get playing music. Making music together is a joyous experience and so valuable for young people's self-confidence, mental health, and well-being."
Our summer music celebrations continued into the evening with a concert with
performances from the West Sussex Youth Orchestras, West Sussex Young Voices, and West Sussex Youth Choir. The event saw over 350 friends and family members attending to support these talented young musicians whose performance culminated with an exceptional performance of Walton's Crown Imperial by West Sussex Youth Orchestra
Among the audience, we were thrilled to be joined by a special guest showing his support to the arts: Andy Bliss (High Sheriff of West Sussex) who afterwards said:
"Thank you [to you] and your brilliant team for a truly excellent and inspiring County Ensembles Summer Concert on Sunday.
The hard work and commitment of all of your team was evident on the night but only represents a fraction of the contribution that they will have put in over the last year. The effort, the energy, and the enthusiasm of the young people themselves shone through and was seriously impressive. As well as musical skills and the enjoyment of making music together it was clear that many had acquired confidence, teamwork and leadership skills which will stay with them through their lives."
If you're a young person, or the parent/carer of a child wishing to explore making music with others please find further details on our website or alternatively contact music.centre@westsussexmusic.co.uk and let us know what you're interested in.