Inclusion
Working to make sure that all young people can participate in and benefit from music
Some young people face barriers to making music, for all sorts of reasons. We are working to make sure that all young people can participate in and benefit from music, within our main activities, as well as through targeted projects.
We are part of the Southern Music Hubs Alliance, one of the 13 founders of the wider Alliance for a Musically Inclusive England (scroll to the end of the page to read more). Through this, we are running targeted programmes, funded by Youth Music, to reach young people facing barriers – beginning with pupils with special educational needs and disabilities. This is also helping us to increase our understanding of how best to embed inclusion within our organisation and our services for young people.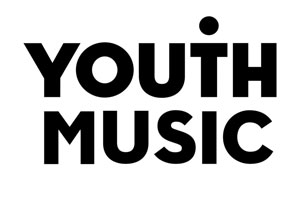 Working in special schools
Inclusive ensembles work – a snapshot
Special schools are always included in our activities and join in many of our main programmes, for example singing celebrations, as well as taster sessions and live music performances.
We've also been running programmes of music work in special schools for some years now, as part of our Youth Music -funded work (see above). This has involved tutors running ten-week blocks of weekly sessions to develop inclusive ensembles, initially in two schools for children and young people with Special Educational Needs and Disabilities (SEN/D). We then extended this to 9 further schools in 2020/21. Read the blog about the premiere of the piece these students devised, called Music for 111 musicians – we were featured on local radio AND are to be featured on the BBC Ten Pieces website!
This work has involved five tutors, developing their practice through CPD sessions about inclusive practice, and regular critical reflection sessions discussing aspects of the work and sharing learning.
As part of the programme, we offered weekly sessions, tailored to special school students and accessible from home, or school:
a)Free weekly singing sessions, live via Zoom
Delivered by our project partner, Emily Barden
b) Free weekly music making sessions, live via Zoom
Delivered by a range of our tutors, and Emily Barden
Exploring pattern in music and all around us
Working with voices, body percussion, instruments and 'home-made'  resources
Linked to a broader range of cultural experiences (dance/art) and curriculum themes
c) A celebration event bringing the schools and students together online
Would you like to get involved in future programmes? Contact Judith: Judith.finlay@westsussexmusic.co.uk
Other work with special schools
We work in partnership with Hurly Burly Theatre to provide pupils in special schools with limited cultural opportunities, with high quality live classical music performance. The performances have multisensory play and gentle interaction at its core, and an improvisatory style which enables the performers to respond and react to each young person's individual responses to the music.
Last year, for example, they brought their opera, Meet Me A Tree, to special schools in West Sussex and had planned to return this Spring (temporarily on hold).
"The show was absolutely beautiful and had a lovely connection with the audience. The Opera was stunning and I loved that the show was age appropriate for the students in terms of content. Visually engaging, adaptable and very sensory too". Teacher, Oak Grove College
Would your school like to be involved in future performances? Contact us to discuss how we might work together to raise funds for a visit:  Alison.Sutton@westsussexmusic.co.uk
Creating opportunities for progression
Often, young people who face barriers to making music find it hard to progress beyond targeted projects that they're involved in. We've set up new inclusive groups, called Orchestras Inc, initially based in special schools, and we've signposted young people to other music/cultural activities and training. Read our tutor's blog about the project.
Training our workforce
We've also been running equality, diversity and inclusion training as part of CPD programme for staff, including during our annual whole-team training day; and for selected tutors with an interest in inclusion.
The Alliance for a Musically Inclusive England
The Alliance for a Musically Inclusive England is a growing network of organisations working together to:
promote equity in music education
support others to do the same through advocacy, CPD, resources, and strategic alliances
We know that music-making is a strong contributor to young people's personal and social development. But despite this, too many are missing out because of who they are, where they live, what they are going through, or the lack of diversity of opportunities.
The work of the Alliance helps music hubs and music services to embed musically inclusive practice into their work, making sure young people's music is HEARD: