West Sussex Youth Orchestras tour to Germany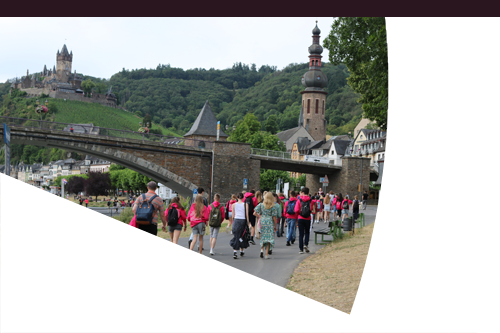 Members of West Sussex Youth Orchestra & West Sussex Youth Wind Orchestra are thrilled to have returned from their recent overseas tour to Germany. Their first tour since 2018. 
The party of 70 young musicians set off for Cochem, near Koblenz on 22 July and over the next 5 days enjoyed cultural tours and gave performance in public concerts. For many students, this was the first time they had been abroad without their families and for some the first time they had left the country.   
Experiences like this are an important for young people, giving a valuable opportunity to become familiar with different cultures, develop new friendships, and for each to grow in musical and self-confidence.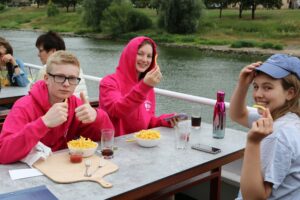 Jessica, violinist with West Sussex Youth Orchestra shares her experience:  "I've really, really enjoyed the tour it's pushed me out of my comfort zone. I feel I've learnt a lot about myself from it, I've grown in confidence, and I feel more equipped for the future like going off to Uni and things like that. In situations where I've been feeling anxious, there's been a lot of support from everybody, staff, students, and it's been a great experience I've strengthened existing friendships, made new friends and I'm just so thrilled I came, and I'd encourage everyone to go if you get the opportunity." 
 John Randall, Music Centres Manager adds: "I don't think any of us could have predicted just how successful the Youth Orchestras tour to Germany would be. Watching these young musicians develop over the course of the tour was a privilege. On every level it was a huge triumph, and with each concert the increase in flair, vibrancy, and confidence of both the Wind Orchestra and Youth Orchestra was a joy to witness. I was proud to be a part of such a rewarding experience and would like to extend my appreciation to our staff tour team." 
 So, what's next for students at West Sussex Music?  
We're already planning for our next tour to France involving West Sussex Youth Choir in May 2024. If you're between 13 and 18yrs and have a passion for singing, information can be found here about becoming a member of the Youth Choir and joining us on tour. 
We're also excited to welcome students back to our Music Centres with activities resuming week commencing 4 September 2023 and lessons in schools resuming Monday 11 September. 
Find out more about our music offers by visiting our website: www.westsussexmusic.co.uk