Full Circle with Laurence Cuttriss – our newest woodwind teacher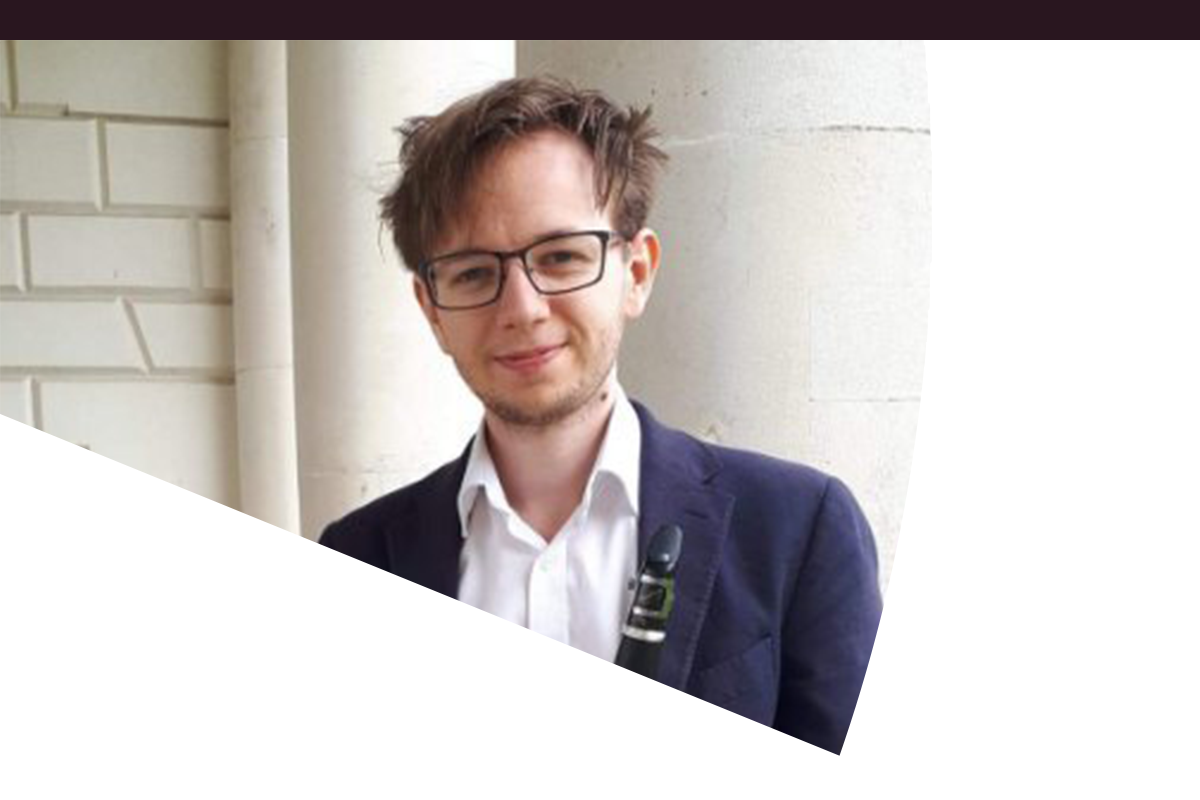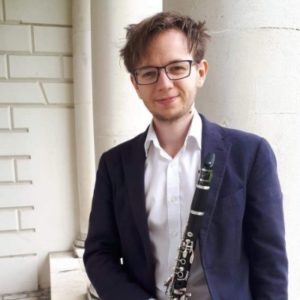 I was lucky enough to be given an opportunity to chat with Laurence Cuttriss last week. At the young age of 23, Laurence has already achieved so much! Most recently in July this year, Laurence was named runner up in the Sussex Young Musician Competition on clarinet.
Laurence's skill and experience in music is certainly getting noticed. On 20 November, Laurence will be playing a solo with Horsham Symphony Orchestra. I jumped at the opportunity to catch up with Laurence and find out more about his inspirations, motivations and his journey with West Sussex Music (WSM).
Q1: So, Laurence, what got you into music?
I started as a student with West Sussex Music around 2008, I think that's the first concert my name's in.  I was about seven or eight when I started playing the clarinet and it was because a teacher from WSM came into my primary school to do an assembly (much like I do now). My parents love music but they weren't playing instruments at the time so I don't think they would've really thought about learning an instrument or taking up lessons if it weren't for someone from WSM coming in and doing a demonstration on it. So that's how it all started!
Q2: Who is your favourite musician?
A few names come to mind, but my favourite clarinettists at the moment are Pete Fountain and Eddie Daniels, who are actually jazz clarinettists, but their music has really inspired me over the years!
Q3:  How did you hear about West Sussex Music:
As I said above, I first heard about WSM from a demonstration in school.  I started playing with the Haywards Heath Junior Band and then progressed onto the Haywards Heath Intermediate Band, and then onto the West Sussex Youth Orchestras.  It was a constant weekly engagement with music with different styles every week.  I think playing with others and playing with friends, it was such an encouragement as well as just being really good fun!
Q4: So, what is your involvement with West Sussex Music right now?
I'm a visiting clarinet teacher so I'm teaching at the moment as well as assisting with the youth orchestras and wind orchestras at West Sussex Music Centre.  Recently I've been conducting sectional rehearsals which is a new thing for me but really good fun to do. It has been really nostalgic to be involved with the ensembles again because just a few years' ago I was a student in the groups.
Q5:  Can you tell me a bit about the Horsham Symphony Orchestra concert?
Yes! So, the 20 of November – will be an amazing return concert of Beethoven, Françaix and Stravinsky! Details are on the Horsham Symphony Orchestra website and the Capitol Theatre website, tickets are available on there!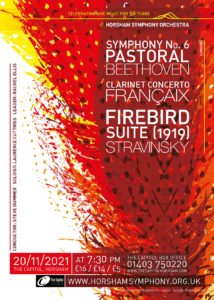 It's really special to perform as a soloist with the Horsham Symphony Orchestra because I've played with them a few times over the years before I went to music college – stepping in for a few rehearsals or a concert.  It's also really special to perform with Steve Dummer conducting, who is one of my main inspirations as a musician.
I'll be performing the Françaix Clarinet Concerto which is notoriously difficult for clarinettists – it's terrifying, exciting, and  enormous fun! It's one of those pieces which when other musicians or friends listen to it they kind of gasp and smile and laugh because it's ridiculously difficult, which is a nice reaction because that's why we play music at the end of the day. We play to have fun and make people happy.
To give an idea of what this concerto is like, I've got a quote from Françaix writing about it. He says:  "This concerto is, or at least I hope it is amusing to listen to. It's a kind of acrobatics display for the ear complete with loops wing-turns and nose-dives which are fairly terrifying for the soloist who needs to have a good stomach and several thousand flying hours under his belt"
It will be a great concert, I'm very excited and looking forward to it!
Q6: What would you say to somebody that's considering taking up lessons or attending a group?
Definitely take part, definitely go for it! It's all about having fun, creating music and playing music with friends. You meet new people and it opens up a whole new world of opportunities.  I've been part of some memorable concerts over the years with West Sussex Music; we've performed at Birmingham Symphony Hall a few times, at the Royal Festival Hall with the London Philharmonic Orchestra and also went on a great tour to Barcelona in 2014.  There's just so many fantastic opportunities and it was just so much fun growing up with all these activities!
Q7: For you, what have the benefits been of learning music personally and professionally?
That's quite hard to answer because it's just been such a major part of my life. I think I've developed as a person and a musician.  I suppose when I was growing up it was maybe not the main thing on my mind as a career.  At that time, and as a kid growing up I was just having fun with it. So, I can't remember a time in my life where I wasn't doing something music related, and then growing up a bit more, I started to get a bit more serious about it in college.  I think just as I listen more and played more with new people, it became a bit of an obsession at Trinity Laban Conservatoire of Music & Dance, then it gets to now.. an absolute obsession!
Q8 If you didn't become a musician would you be doing right now?
I have absolutely no idea! I can't really remember a time when I wasn't doing something music related. I honestly don't know what I would be doing…
Q9: What does music mean to you?
We perform to make ourselves and other people happy. Every time you perform in front of an audience, you're performing to make them feel something.  If you spot a smile in the audience or someone thanks you after the concert, that's the best feeling, that's my job done! That in turn inspires you to do more.
Q10: What advice would you give to an aspiring clarinettist?
Practise, Practise, Practise! (Laughs) Also, listen to lots of music, there's something out there that will inspire you. I think you should make music for yourself, to make yourself happy and to make other people happier. Playing in groups and ensembles will create so much fun for whoever wants to get involved, then you progress naturally while you're doing that.
What an absolute pleasure to catch up with Laurence, and we're so excited for him to be playing the Françaix Clarinet Concerto with Horsham Symphony Orchestra.
We understand how important live music is for young people. Along with lots of health and wellbeing benefits, listening to different types of music helps inspire and motivate young minds.
Harness the benefits of making music and get playing, click here to find out more and sign up.