Classroom instrumental lessons
Government funding allows every child the chance to learn a musical instrument for FREE!
The DfE's recently published Model Music Curriculum  states:
In Years 3 or 4, it is recommended that each class should start a whole-class instrumental programme lasting a minimum of one term. It will enrich your school's curriculum and upskill class teachers whilst providing your pupils with an inspiring and life-changing opportunity. [Model Music Curriculum]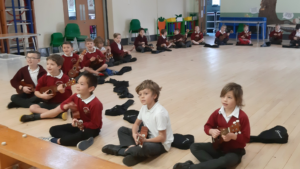 Not only do our programmes offer pupils a fantastic FREE musical opportunity, they also enrich your school's music curriculum & give the opportunity for class teachers to learn new skills.
Learning a musical instrument is a fantastic experience with a wealth of educational, personal & social benefits. But we know that many children and young people miss out, for all sorts of reasons. We have a range of subsidised programmes that help you to introduce all children to making music, as well as supporting teachers to boost their own confidence in music.
Classroom Instrumental Lessons (CIL) benefit from funding from the Department for Education to make this national initiative affordable for all primary schools to give their pupils a free introduction to instrumental learning as a class.  
West Sussex Music provides a subsidised programme to classes in a specified year group. We hope all children will have benefitted from the DfE funding by the time they leave Key Stage 2. 
West Sussex Music offers a choice of CIL programmes, select the tabs below to find out more
If you'd like your children to benefit from any of these exciting offers please contact the schools' team on music@westsussexmusic.co.uk 
Testimonials
"1Term2 Learn has had a huge impact at our school giving every child in Year 3 & 4 the chance to learn an instrument.  This has also had a positive impact on recruitment for instrumental lessons with over 30 children now having small or individual lessons and with the help of the WSM bursary scheme for many this would not normally be an option.
A huge thank you to West Sussex Music for providing our school with high-quality teaching in a fun and engaging way."
"All pupils have been given the opportunity to learn a new instrument which is something that, for many, would not have been otherwise possible. The children really enjoyed performing to their families at the end of the programme."
"The children absolutely love their music sessions and are fully engaged. When our parents were invited to see a session they were blown away by the high-level music teaching that they saw and we had many positive comments. The teacher uses a range of previously taught songs/activities to ensure children can confidently join in the session and then move on to learn new skills and techniques. The children are so happy to now have recorders and be learning how to play a tuned instrument."