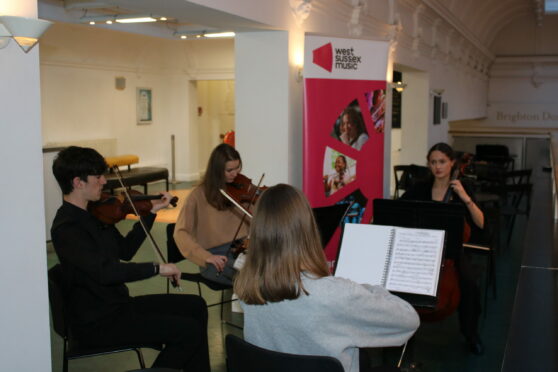 On Saturday 4 November students from Horsham Music Centre had an extra special visit to Brighton Dome courtesy of our new Hub partners London Philharmonic Orchestra (LPO).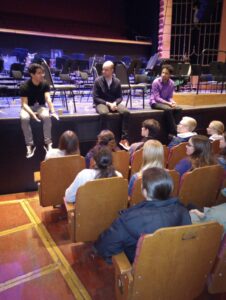 The WSM string quartet was invited to perform in the Dome's foyer and delivered a stellar performance to concert-goers waiting for the evening's main event by the London Philharmonic Orchestra (LPO) in the concert hall.
Before the performance the students met the conductor and soloists, providing a valuable experience for the students involved, with each having the opportunity to ask questions about their playing, their careers ands how they found performing professionally.
The WSM students also had the opportunity to see how it worked from the conductor's perspective, as well being able to watch the end of the rehearsal, where they were able to ask him about his own conducting technique, which was a unique experience.
Our students were really excited by the opportunity.

Maja said: "Just seeing the dedication is inspiring. It's made me want to practise more. It was really nice getting to meet the players beforehand as when you are then watching them it feels like real people and you connect with them on a different level."

Benjamin, the violin soloist from the LPO came to watch our quartet play and said he was really impressed with them, and that they played really well in what was quite a loud environment.  He even gave feedback as to how they might improve their performances.

The concert itself was fantastic with pieces from Dvorak, Mozart and Tchaikovsky.
A particular highlight for the students was the Mozart's Symphony Concertante, as having seen the soloists in rehearsal and having met them, watching them then perform the fiendishly difficult solos was all the more impressive.