Free Rock Band Taster Sessions: Stand Up, Stand Out
We're excited to share details of our new Band Sessions!  A unique opportunity for young musicians to get together with likeminded others to join or form a band and perform in a Rock Show at the Minerva Theatre, Chichester and at band nights and summer festivals.
Sessions run weekly during term time, taking place in Chichester on Saturday mornings, provided by our Hub partner Ovation Music.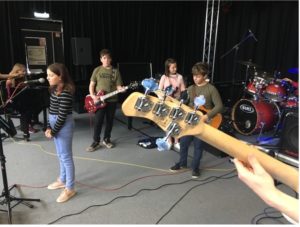 Some prior experience of playing a contemporary instrument (vocals; electric or acoustic guitar; bass guitar; keyboard or drum kit) is required, we recommend that pupils have been singing and/or playing their instrument for at least one year to get the most out of the experience.
These music sessions encourage creativity, teamwork, and positive social interaction. "Ovation helped me meet other musicians around my age and gave me the opportunity to perform on stage which helped me gain confidence to do better in school" Jamie, 14 
Joining these workshops is easy – Come along to a FREE taster sessions for a jam, chat and look around. Fees only apply to those wishing to enrol for a term and join or form a band that rehearses weekly.
Register your interest and find further information here: www.ovationmusic.org.uk