Worthing Symphony Orchestra partnership enables children to experience orchestra for the first time
Hundreds of Key Stage 2 children from across Worthing have experienced their first visit to a cultural venue and taste of an orchestra playing thanks to a special partnership between West Sussex Music, Worthing Symphony Orchestra and Worthing Assembly Hall. 
Last week (Friday 29 September), over 600 children from 11 schools and 112 home-schooled children from across Worthing were invited to Worthing Assembly Hall to watch and listen to a specially curated programme featuring popular pieces from well-known composers.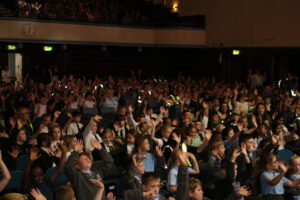 During the hour-long performance the children heard the collective and individual voices of animals such as the tortoise, lion, and elephant in their natural habitats alongside familiar noises from nature such as thunder which generated excitement and surprise amongst the young audience. The music was varied and diverse from Joseph Haydn to Saint-Saëns and Beethoven to Rimsky Korsakov.
Alison Sutton, our Assistant Head and Head of Learning said:
"We've had a fantastic day today. A huge thank you to John Gibbons musical director with Worthing Symphony Orchestra for his generosity in making this opportunity available, and to the wonderful Worthing Assembly Hall staff.
"For these pupils, some of whom had never been to the Assembly Hall, this is an experience that will stay with them forever. We can't wait for the next one!
"It was delightful to see hundreds of children and their teachers come together to enjoy and participate in a concert of this scale. The feedback we received from the students as they left the venue was that they "loved it", and I hope this inspires some of them to take up a musical instrument."
The event was made possible thanks to Worthing Symphony Orchestra and Worthing Assembly Hall, and is the latest in a longstanding relationship with West Sussex Music to bring immersive and participative performances to children and young people.
"We really liked the tortoise. It was slow then very quick, then the children realised that it was the Can-Can and clapped and danced in their seats.
"It was brilliant, particularly as we listened to the Can-Can in class yesterday." she added.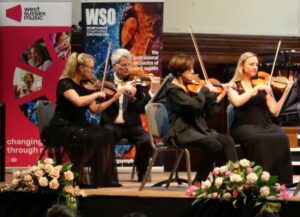 Pupils from the school were close to the double bass section where some of the deepest sounds were generated. Charlotte, 9, said the thundery sounds "made her feel nervous, but excited at the same time", while Mataya, 8, reported she was "desperate to play a double bass", but more than that she liked the "black sparkly dress" worn by a violinist.
Whereas Jenson, 8, said he didn't have a favourite bit. "It all made me feel happy", he told us.  And that is what it's all about …
---
Get in touch if you know a child or young person who would benefit from getting involved in music.