Ten years of music making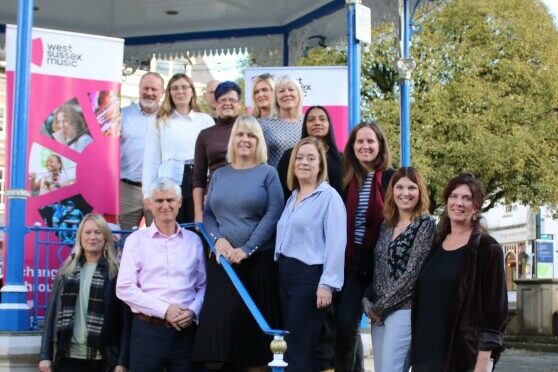 West Sussex Music is celebrating its tenth anniversary this week of offering musical opportunities to children and young people in the county.
West Sussex Music, based in Horsham, took over music provision for the county from West Sussex County Council ten years ago today (Wed 1 November).  
West Sussex Music provides high quality and inclusive music education and educational opportunities for all children and young people across the county and also works with strategic partners to increase opportunities for all young people to make and learn music as part of the music education hub. 
West Sussex Music aims to ensure all schools have access to quality assured music practitioners, teacher training, workshops and projects with the aspiration to ensure all schools can achieve the best possible outcome for their students. 
As well as school-based lessons, West Sussex Music provides diverse music opportunities in the form of holiday activities involving rapping and DJ-ing, as well as orchestras, bands and choirs that meet on a regular basis, at evening and Saturday music centres across the county. 
James Underwood, Chief Executive for West Sussex Music, said:  
"It has been a privilege to work with schools and students these last ten years and I'd like to use this moment to applaud music teachers across the county for their commitment to ensuring that music remains a vital part of a broad and balanced curriculum. We know how stretched schools and families are, and the challenges they face in providing access to music-making activities, but as an organisation and music hub we've been there to support them to find creative and inspiring opportunities for young people of all ages to enjoy and explore the life-changing benefits of music on their education, their wellbeing, and their future."
Each year West Sussex Music and its partners –  
Engage with 19,000 students 

 

Provide support to 287 schools 

 

Provide financial support to 650 students

 
Over the next few months, opportunities West Sussex Music will be offering to schools and home-schooled pupils in the county will include –
Winter holiday activities in Bognor Regis, Crawley Littlehampton, and Worthing, including rapping and DJ-ing workshops 

 

New beginner groups at Chichester, Horsham, and Worthing music centres

 

Large choral projects with schools across the county

 

Projects with national partners Glyndebourne, London Philharmonic Orchestra, and The Benedetti Foundation  

 

A Choir tour to France

 
For more information on West Sussex Music and the opportunities provided, take a look around the website or call 01403 286330.