Orchestral programme hits all the right notes!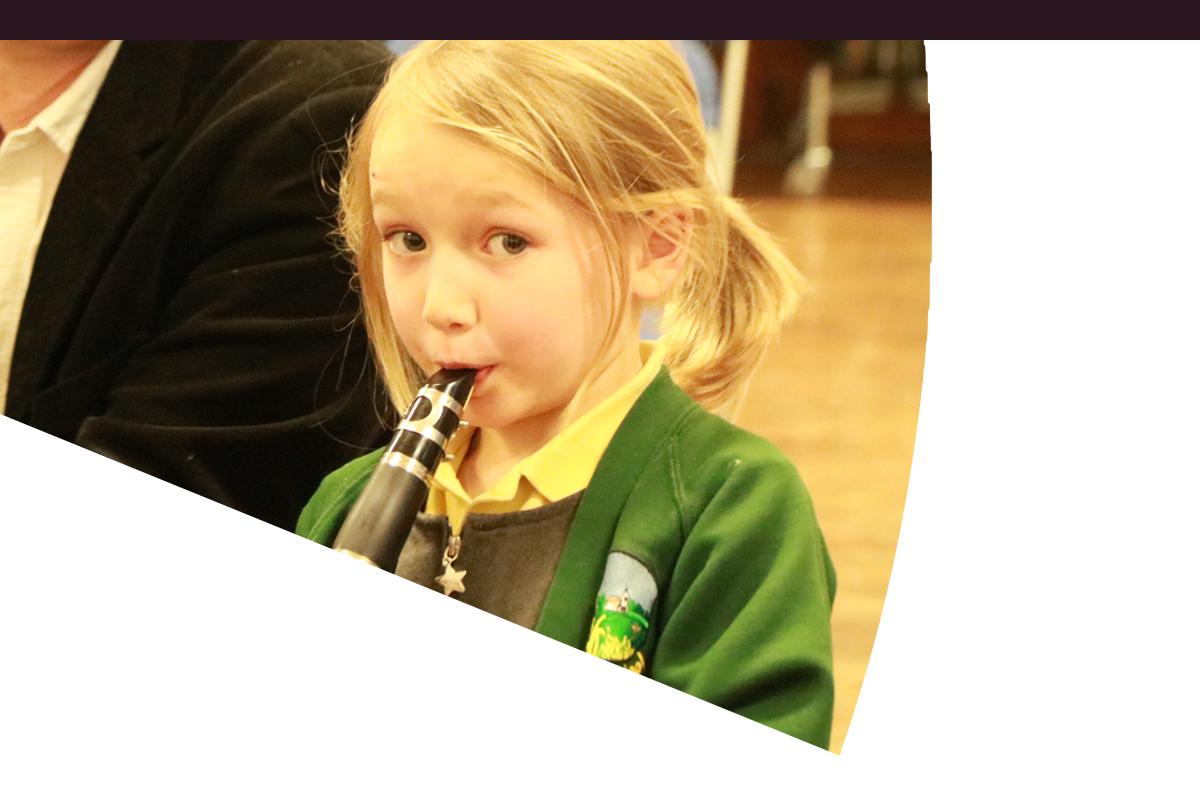 We were thrilled to start March by welcoming over 100 aspiring musicians onto our new fast-track orchestral programme at music centre venues in Chichester, Horsham, and Worthing.
In recent years there's been a decline nationally in children choosing to learn orchestral instruments such as the clarinet, trumpet, percussion, violin, and cello.
As lovers of music, the prospect of a future with a lack of orchestras felt distressing.  As music educators, we wanted to reignite young people's interest in these instruments and ignite the passion for playing music as part of a group.
In response, we launched the Tomorrow's Orchestra Programme – an orchestral programme aimed at complete beginners between the ages of 7 – 12 years.  The programme combines large group instrumental lessons with orchestral sessions across three terms.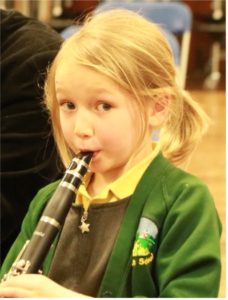 One of our new musicians Enfys, age 7, shares her motivation for wanting to learn the clarinet with us:
"…Well, I know how to play the fife and I know how to play the recorder and the clarinet is sort of a mix between them so it might be quite easy to learn and I think I'd really enjoy it because Squidward plays the clarinet in SpongeBob SquarePants"
Tomorrow's Orchestra Programme Manager Kate Parkin shares:
"It has been such a pleasure to welcome so many new families to our Music Centres and the TOP programme – all of them excited to start their journey into instrumental music-making! For some this is a 'first-in-family' experience while others have children already learning or parents/carers who play but the common bond is a determination to help their child's learning and we're delighted to harness this support"
The first TOP concert is on Saturday 9 July at Worthing Assembly Hall and will be a celebration of everything learned so far!
If you're interested in learning to sing or play an instrument at your school, you can sign up for lessons here:  https://www.westsussexmusic.co.uk/make-music/music-lessons/
Or if you already sing/ play an instrument why not join one of our music centres for and take part in group lessons.  Find out more here: https://www.westsussexmusic.co.uk/make-music/groups-and-ensembles/