Today's Opportunity, Tomorrow's Orchestra
We've just finished another spectacular Winter Concert at West Sussex Music.   
On Sunday 4 December, over 600 audience members attended Worthing Assembly Hall to show their support for our young musicians. 
A total of 227 students performed in 11 ensembles and showcased an extensive spectrum of talent and musical tastes. The concert was particularly special as we saw students from our newest ensemble initiative, the Tomorrow's Orchestra Programme, graduate! 
Louisa Orton, parent of a student in Tomorrow's Orchestra shares:
"Fab concert on Sunday, we were all very impressed with them – especially the Tomorrow's Orchestra Programme, it's so great to see a new generation being boosted in like that." 
The Tomorrow's Orchestra Programme was created and launched in March this year and saw 45 students join and complete the programme. They were given a choice of Brass, Strings or Woodwind instruments and as well as a lesson had a weekly orchestra session. 
Since starting in the Orchestra the musicians have performed in two public concerts, and now, as they graduate and move up to the next level, we have the opportunity to invite more young people to join the next programme!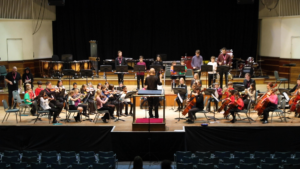 TOP23 starts in January and is open to young people aged 7 – 11. Designed for complete beginners in Years 3 to 6, with free instrument loan included, we start with the basics and nurture their skills and knowledge in group lessons and in the Tomorrow's Orchestra. There will be lots of opportunities to keep up with students' progress in informal performances and public concerts.  
If your child or the child you care for has a passion for music and would like to learn a musical instrument for free, find out more and sign up today, click here