Free music activities in winter holidays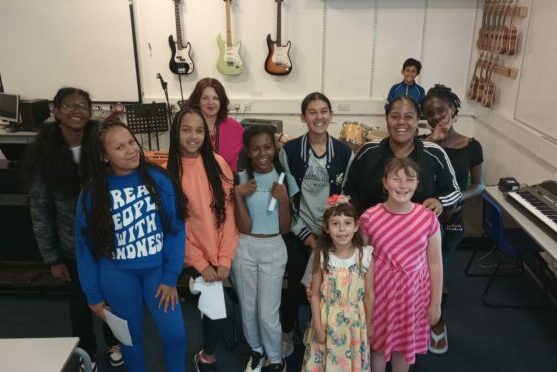 West Sussex Music is running a series of music activity sessions for eight to 16 year olds in the winter holidays in Bognor Regis, Crawley, Littlehampton and Worthing, with many places available at low or no cost.  
Whether you've got advanced skills or just want to give it a try, there is something for everyone.
At Bognor Regis and Littlehampton, West Sussex Music will be offering Rap and Lyric Writing Workshops run by Louie Levack, rap practitioner and established performer, who will be incorporating performance and lyrics into the workshops.
In Crawley, attendees will be able to take part in DJ and Music Production workshops, giving them the opportunity to learn new skills, delivered by our hub partners Education & Bass.
Over in Worthing, for youngsters with a passion for playing guitar, bass, drums, keyboard/piano or singing, then this workshop is for them.  In a brand new four-day workshop, designed for students that have already started learning the basics in lessons – there will be opportunities to learn how to build a band.
Open to eight to 16 year olds, all skill levels are welcome, and equipment is provided.
James Underwood, Chief Executive of West Sussex Music said:
"Music comes in so many different styles and genres, which is why we're so thrilled to be able to provide these sessions for children and young people in areas we know are of huge interest to many of them. Having the opportunity to build a band, learn how to rap, or create music through DJ-ing is so exciting, and many of our attendees return to learn more from our incredible music professionals."
"Last year we filled 225 spaces on our courses with young people who wanted to have fun making music, making friends and making memories."
Free places for those receiving free school meals, £18 per day for those on other state benefits, and £36 per day for others. Lunch is included.
Dates for your diary:
 Bognor Regis, The Phoenix Centre at The Regis School. Monday 18 – Wednesday 20 December, 10am to 3pm. Come for one day, or all three. Lunch is included.
 Crawley, Thomas Bennett Community College. Monday 18 – Wednesday 20 December, 10am to 3pm. Come for one day, or all three. Lunch is included.
 Littlehampton, The Angmering School. Thursday 21 and Friday 22 December, 10am to 3pm. Come for one or both days. Lunch is included.
 Worthing, Northbrook College. Monday 18 – Thursday 21 December, 10am to 3pm. It is advisable to attend all four days as each day will build on band skills, learning songs and performing at the end on Thursday. If you can only come for one, two or three days, that's fine too.
For more details on all the activities and to book, go here.