At West Sussex Music, the lead organisation for the county's music education hub, we decided that during 2021, we would begin to reshape the way we work. 
We want to place partnership working at the heart of the Hub, working with school teachers and leadership teams; local authority departments and voluntary organisations; music and arts organisations; young people, their parents/carers; and others in West Sussex who work to improve young people's wellbeing, education and futures through music. 
So, we have created a West Sussex Music Education Hub Board – and have begun by recruiting stakeholder representatives to provide strategic direction. Together, we can achieve more and ensure that music can play a meaningful part in every young person's life. 
If you're involved in an organisation supporting young people's music-making in West Sussex please take a moment to complete The Big Music Activity Survey.
West Sussex Music Education Hub is a collaboration of musical professionals throughout Sussex working to enable local music involvement.

Quick facts
This is a new way of overseeing music education

in the county

, to ensure we shape what we do around the needs of children, young people and those who work with them or care for them

West Sussex Music Trust's activities and services will remain central

to the work of the Hub

We'll also work with a range of partners to diversify the offer, signpost and connect people, and ensure we reach more young people, particularly those facing barriers to access or engagement

This is not a new initiative or source of funding – we're here to help make the best use of resources and funding to better meet ALL young people's needs and work together strategically to improve the

opportunities and

music education landscape

in the county
Who will be involved?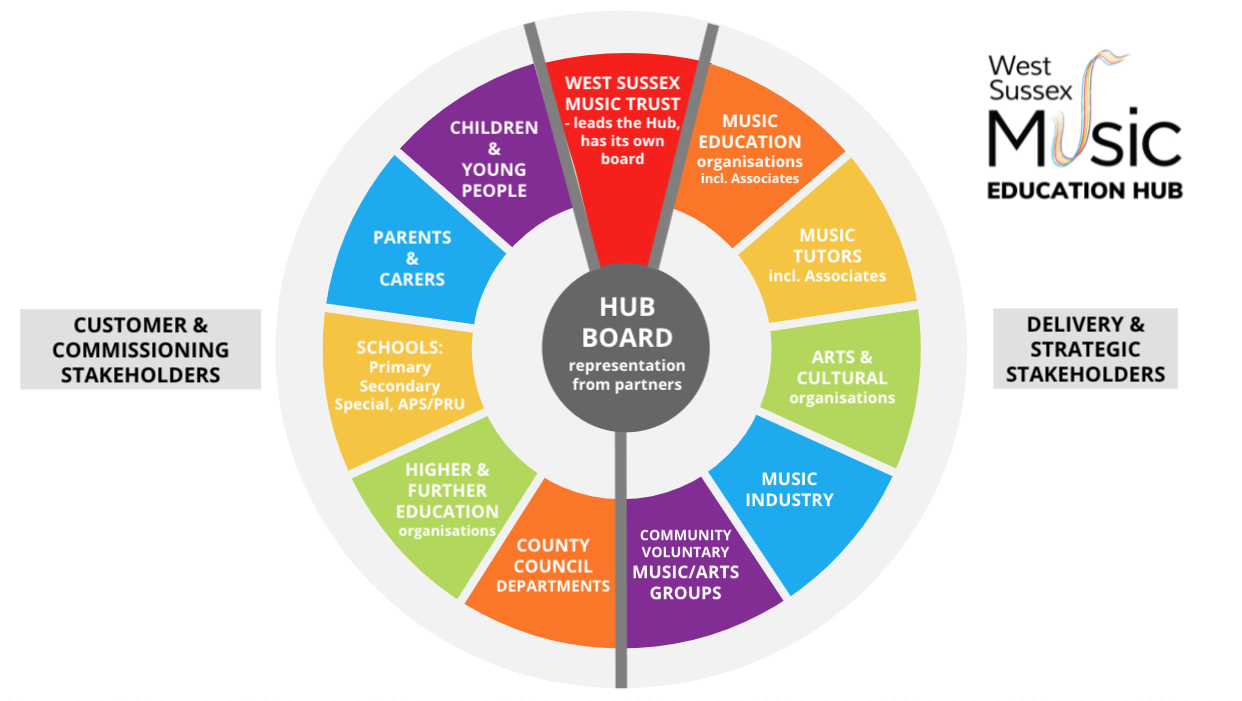 What is a music education hub? 
Music education hubs are partnerships of organisations* working together to create joined-up music education provision, in and out of school, as part of the National Plan for Music Education in England. They are there to ensure that all young people in their local area are able to access the music education that's right for them. 
They are each coordinated by a Hub lead organisation – in this case West Sussex Music – which takes on responsibility for the funding and governance of the Hub. There are more than 100 hubs across England and each receives a grant from the Department for Education, administered through Arts Council England, to fulfil four compulsory core roles, and three optional extension roles: 
Core roles 
Ensure that every child aged 5 to 18 has the opportunity to learn a musical instrument (other than voice) through whole-class ensemble teaching programmes for ideally a year (but for a minimum of a term) of weekly tuition on the same instrument. 

Provide opportunities to play in ensembles and to perform from an early stage. 

Ensure that clear progression routes are available and affordable to all young people. 

Develop a singing strategy to ensure that every pupil sings regularly and that choirs and other vocal ensembles are available in the area. 
Extension roles 
Offer CPD to school staff, particularly in supporting schools to deliver music in the curriculum. 

Provide a low cost instrument loan service, with discounts or free provision for those on low incomes. 

Provide access to large-scale and/or high-quality music experiences for pupils, working with professional musicians and/or venues. This may include undertaking work to publicise the opportunities available to schools, parents/carers and students. 
* such as local authorities, schools, other hubs, arts organisations, community or voluntary organisations